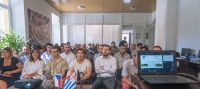 On September 15, the European Union launched a new development project entitled "Promotion of Rural Development and Diversification in Khulo Municipality".

The project is being implemented by Caritas Czech Republic in Georgia (CCRG) together with PMC Research and the Croatian Rural Development Network. Its aim is to improve employment and living conditions in Khulo through diversification of the rural economy.

The project's launch event was opened by Avtandil Melkhidze, Acting Minister of Agriculture of Adjara, Alvaro Ortega Aparicio, Attaché, Programme Manager for Environment and Rural Development, Delegation of the European Union to Georgia, Ekaterine Meskhrikadze, Head of Mission, CCRG, Giorgi Khishtovani, Director at PMC Research, representative of Croatian Rural Development Network and Municipality Gamgebeli.

"Under the ENPARD programme, the European Union supports rural and agricultural development in different regions of Georgia. This project will introduce the European model of rural development, so called LEADER approach, and will create new economic and social opportunities in Khulo municipality", stated Mr. Ortega.

Mr. Khishtovani talked about the importance of tourism development and stressed that: "Increased tourism potential can positively affect agricultural and urban development for the region. The fact that the new project combines all these three components makes the project particularly interesting for the region".

The project follows the earlier EU-supported rural development activities under European Neighbourhood Programme for Agriculture and Rural Development (ENPARD) in Borjomi, Lagodekhi and Kazbegi municipalities. This year, the EU has launched new rural development projects in five other municipalities: Khulo, Keda, Dedoplistkaro, Akhalkalaki, and Tetritskaro.


Please kindly follow the link below for detailed information about the project:
Promotion of Rural Development and Diversification in Khulo Municipality