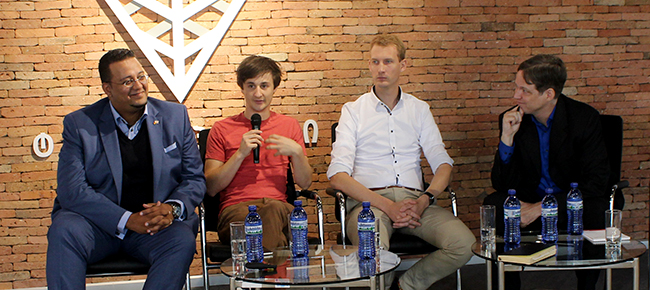 On September 4, Georgian-German Startup Forum was held at Technopark, organized by PMC Research in collaboration with Georgia's Innovation and Technology Agency (GITA).

The event aimed to facilitate the sharing of knowledge and experience regarding entrepreneurship and was part of the Germany-Georgia Friendship Year, supported by the German Embassy in Georgia and Procredit Bank.

Giorgi Cherkezishvili, the Deputy Minister of Economy and Sustainable Development of Georgia, Dr. Heike Peitsch, Ambassador of Germany to Georgia, Aleksi Aleksishvili, General Director at PMCG, and Giorgi Zviadadze, Chairman at the GITA opened the Forum. Colin Donohue, an entrepreneurship strategy specialist, and Giorgi Laliashvili, chief specialist of strategic development at the GITA, moderated discussions.

Leading German entrepreneurs with impressive experience of creating and managing startups - Michael Huebl (flinc GmbH), Wolfgang Bernecker (Pandata GMPH) and Stephan Dabels (AmbiGateGmbH) - shared their experience with local startupers and discussed reasons behind various successes and failures, as well as global trends.

On September 5, local startupers will have the opportunity to meet the German speakers in person within the B2B meetings that will enable them to better present their initiatives and discuss cooperation opportunities.

"We think that such forums are very important for sharing knowledge, experience and technologies between the two countries, and for establishing partnerships. We hope that Georgian companies will acquire useful experience from German companies and will be able to develop strategic collaboration with them", explains Mikheil Skhiereli, Project Manager from PMC Research.

Along with local startupers, representatives of the German Embassy in Georgia, the Ministry of Economy and Sustainable Development of Georgia, and international organizations and institutions attended the Forum.